Controversy Over A Coin Toss
The choice to use a coin toss to decide who would carry the US flag during the opening ceremony of the 2018 PyeongChang Winter Games has created some controversy.
The flag bearer for opening ceremonies are usually chosen through a vote by the eight US winter sports federations. That includes each individual sport: the biathlon, bobsled and skeleton, curling, figure skating, hockey, luge, ski and snowboarding, and speed skating.
But for the first time, there was a tie.
Erin Hamlin, a world-re-known luger, two-time world champion and four-time Olympian received four votes, and Shani Davis, a decorated speed skater and five-time Olympic game qualifier also received four votes.
To break the tie, officials decided to use a coin toss, with Hamlin ultimately being chosen.
Davis, clearly not happy with the result, used Twitter to express his frustrations, calling the coin toss by Team USA "dishonorably" done.
"I am an American and when I won the 1000m in 2010 I became the first American to 2-peat in that event," Davis tweeted. "@TeamUSA dishonorably tossed a coin to decide its 2018 flag bearer. No problem. I can wait until 2022. #BlackHistoryMonth2018 #PyeongChang2018."
Hamlin on the other hand, said she was shocked after being picked.
"Working hard and earning success is one thing, being acknowledged as a great representative and member of Team USA by fellow athletes – many who I have been inspired by – is above and beyond anything I've experienced," Hamlin said in a statement. It is definitely a privilege and honor to be the one to lead the team and will be a very special moment."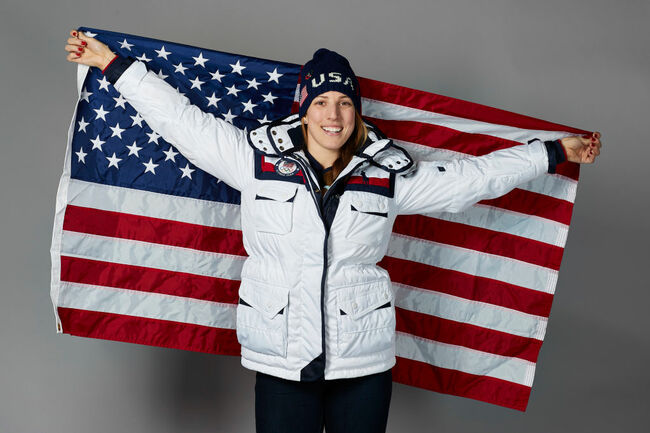 Team USA flag bearer Erin Hamlin poses for a photo wearing her Polo Ralph Lauren Team USA Opening Ceremony heated parka on February 8, 2018 in Pyeongchang-gun, South Korea. Featuring wearable technology with a seamlessly integrated heating system, the Polo Ralph Lauren Team USA Opening Ceremony white heated parka will be worn exclusively by the flag bearer. (Photo: Getty Images)